registering investigations (taken measures).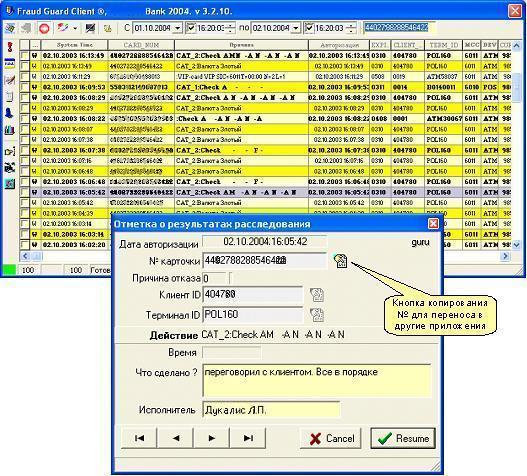 The system has its own database of the transactions, which is de facto an independent audit database.
Platform
Server - Windows 2000 / 2003 Server, Oracle 8.1.7 +;
Working place (operator, Fraud Officer) - Windows 2000 /XP/ 2003 Server.
Efficiency . on this platform the system processes about 7,000 transactions per hour.
In case of using another processing and if it is impossible to receive the data on-line, the system FraudGuard. can be used in the .quasi-on-line. mode, i.e. the payments are realized as the data on the transactions are received from the card service provider, e.g. every 5 minutes, 15 minutes etc. Increasing frequency of information exchange with a provider will increase the quality of the FraudGuard. system services. The ideal frequency is the possibility to build the interface available on-line.
The system functioning is verified and it interacts with the processing systems KONTS and Open Way. For further realizations of the processing it is essential to make necessary changes in the interface of interaction with the processing data bases.
Back